Are you looking for airport shuttle service New Baltimore MI?
If you have a flight coming up and you need a ride to/from the airport, we encourage you to check out our first-class airport shuttle service at Midwest Black Cars & Limos. Our private shuttle service is available any time, day or night, to anyone who needs a safe, comfortable ride to any airport in the region. Plus, with it, you'll also be able to enjoy other optional one-of-a-kind services with our airport shuttle service as well, like meet and greets, luggage assistance, and chaperones to accompany you to and from your vehicle to keep you safe. Our staff is even designed to be small and meticulously maintained to ensure the safety of each of our loyal clients. In fact, aside from offering the absolute best and most professional airport shuttle service, the safety and comfort of our passengers is always our number one priority. So please, rather than allowing an unreliable, potentially dangerous, rideshare/car service app to learn your whereabouts throughout New Baltimore, consider our proven, private airport shuttle service at Midwest Black Cars & Limos instead. We promise, we will do everything we can to make sure our airport shuttle service makes you feel like the VIP we know you to be – all you have to do is give us a chance!
Airport Shuttle Service New Baltimore MI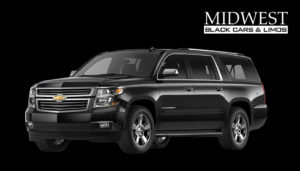 At Midwest Black Cars & Limos, we specialize in offering outstanding transportation services, including our airport shuttle service, to all travelers in New Baltimore, MI, and beyond. After all, aside from merely being a residential waterfront city, New Baltimore is a spectacular, historical resort community with plenty of local attractions that make it feel like home no matter where you're from. It's biggest attraction, apart from the entirety of Lake St. Clair, is the humble Walter and Mary Burke Park, where residents of New Baltimore often gather for events and activities. Though, throughout the rest of the year, people in New Baltimore tend to focus on the city's exceptional shopping and beaches instead. Either way, of course, hardly anyone who travels to or through New Baltimore can think of a negative thing to say about it – much like our shuttle service at Midwest Black Cars & Limos. In fact, the next time you, or someone you care to impress, needs a ride to/from New Baltimore to/from any airport in the area, just give us a chance. Our drivers know New Baltimore with outstanding precision, and are certain to get you where you need to go safely, on time, and with remarkable discretion – all you have to do is give us a chance!
If you are looking for airport shuttle service New Baltimore MI, call Midwest Black Cars & Limos today at 586.258.9282 for a free consultation, or simply fill out the form below: