Are you looking for airport shuttle service St Clair Shores MI?
There's nothing worse than needing a ride to/from the airport and winding up stranded, so don't let it happen to you. It isn't difficult. All you have to do is get your transportation all sorted out with Midwest Black Cars & Limos long before your flight, thanks to our one-of-a-kind shuttle service. Not only is our airport shuttle service available all day and all night, making it perfect for all flight times, our incredible drivers are each chosen specifically for their transit skills and intimate knowledge of St. Clair Shores and the surrounding cities and airports so you can always feel confident you will arrive where you need to be on time. Need help with your luggage? No problem! Our airport shuttle's exclusive optional meet and greet services will ensure you have all the help you need walking to and from your vehicle, keeping you and your possessions safe and secure every moment you're in our care. All in all, there's really no better way to get to the airport than our safe, comfortable, professional shuttle service at Midwest Black Cars & Limos. If you don't believe us, try out our airport shuttle service for yourself and see. In all categories, we're sure you'll agree that our remarkable airport shuttle service surpasses any and all other rideshare/car service apps out there every time!
Airport Shuttle Service St Clair Shores MI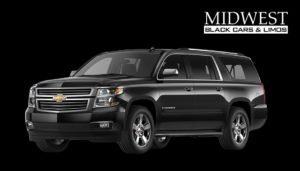 At Midwest Black Cars & Limos, we specialize in offering outstanding transportation services, including our airport shuttle service, to all travelers in St. Clair Shores, MI, and beyond. After all, it's a pretty great city. Directly on the shores of Lake St. Clair, the incredible, accurately named, city of St. Clair Shores remains a suburban paradise for all who call it home. Its scenic beauty, recreational potential, and proximity to Detroit have even made St. Clair Shores quite the tourist destination throughout the years. Yacht charters, plenty of taverns, and several museums bring people from near and far to visit St. Clair Shores, many of whom even fly in thanks to the many surrounding airports scattered across the region. Just keep in mind, if you're ever the one flying in or out of St. Clair Shores, our airport shuttle service at Midwest Black Cars & Limos is going to be your best friend. In terms of comfort, class, reliability, and safety, you just won't find a better means of transportation between destinations. Just give us a heads up on exactly where in St. Clair Shores we can pick you up and/or drop you off, and we will be there for you every time!
If you are looking for airport shuttle service St Clair Shores MI, call Midwest Black Cars & Limos today at 586.258.9282 for a free consultation, or simply fill out the form below: