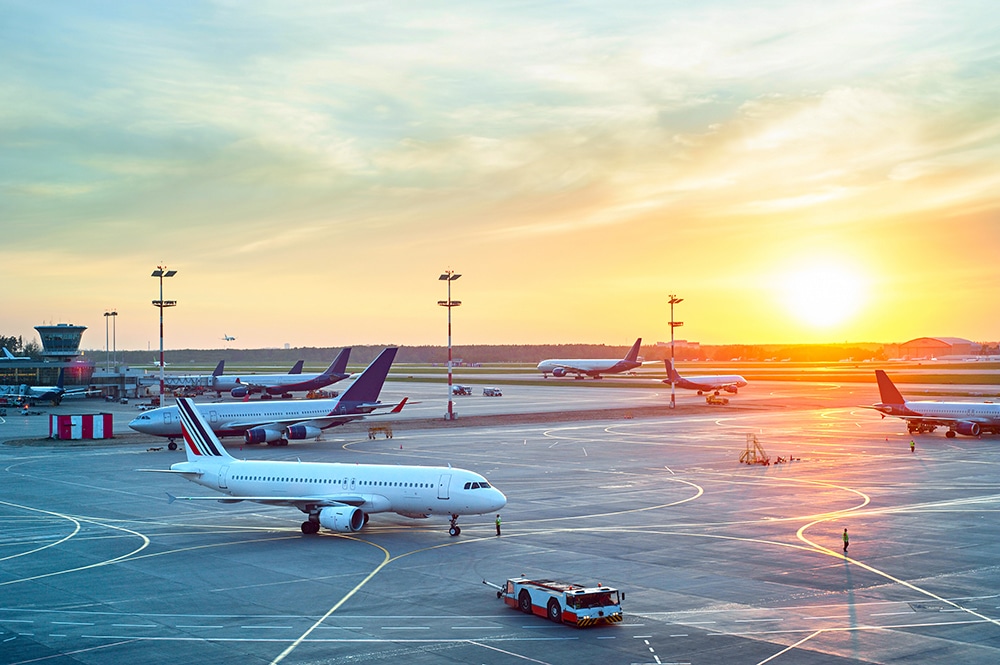 Southeastern Michigan is one of the most popular places to travel in the Midwest. Its cultural and historical significance, scenic beauty, and recreational opportunities have made the entire region a beacon for travelers for over a century – and to this day, few other places around the country can compare. That's why, at Midwest Black Cars & Limos, one of our favorite services is our airport shuttle service. It allows us to get to better connect with locals coming home and get to know visitors from all over the world. So please, take a look below to see which Southeast Michigan airports we provide transportation to and make sure you know where you can turn the next time you're traveling and need a ride!
DTW: Detroit Metropolitan Wayne County Airport
Located at 1 Detroit Metropolitan Airport Tram, Detroit, MI, 48242, the DTW airport is the most popular airfield in the region. It services both commercial and private planes for a variety of domestic and international flights.
Need a ride to or from DTW? Our chauffeurs would be happy to meet you either at baggage claim for all domestic flights, or over at customs if you're arriving on an international flight – or help you take your luggage to your check-in destination.
DET: Coleman A. Young International Airport
DET (previously known as the Detroit City Airport) is a private airfield located at 11499 Conner St, Detroit, MI, 48213, that provides private travel accommodations an exclusive clientele of domestic and international travelers.
If you have a flight leaving from or arriving at DET, however, our chauffeurs will be happy to either bring or meet you directly at/to the plane or FBO.
PTK: Oakland County International Airport
PTK is another private airfield located at 6500 Highland Rd, Waterford Township, MI, 48327. It services private planes only for both domestic and international flights.
If you are departing or arriving from the PTK airport, much like we would with passengers of the DET airport, our chauffeurs can take/meet you directly to/at your plane or the onsite FBO.
YIP: Willow Run Airport
At 801 Willow Run Airport, Ypsilanti, MI, 48198, the small yet mighty YIP airport services a vast fleet of private planes traveling both domestically and internationally with precious cargo and passengers alike.
Of course, whether you're departing from or arriving at YIP, just remember, our chauffeurs will meet or escort you directly to your plane or the FBO, whichever you prefer.
VLL: Oakland/Troy Airport
Though it is the smallest on this list, the VLL airport, located at 2672 Industrial Row Dr., Troy, MI, 48084, is considered an executive airfield. It services a number of small private planes flown on behalf of elite business travelers and tourists with private planes.
Due to the size of the facilities, if you are arriving at or departing from the VLL airport, our chauffeurs will only be able to meet you at the airports main building.
FNT: Bishop International Airport
Also known as the Flint Bishop Airport, FNT, located at G-3425 W Bristol Rd. Flint Township, MI, 48507, is a larger airport servicing both commercial and private planes for both domestic and international flights.
Whether you're flying in or out, our chauffeurs can help you with you luggage either to your check-in location, or from baggage claim!
Just make sure no matter which airport you're traveling through, you take time to speak with one of our friendly representatives at Midwest Black Cars & Limos before your flight so you can make sure all your transportation is taken care of before you leave/land! If you are looking for airport transportation service, call Midwest Black Cars & Limos today at 586.258.9282 for a free consultation, or simply schedule service.