Are you looking for airport shuttle service Mount Clemens MI?
Comfort and safety are among some of the most important concerns for frequent travelers. From long flights surrounded by strangers, to unknown hotels in new cities, you really just never know what your experience is going to be in a new place until you get there. However, with Midwest Black Cars & Limos, we strive to at least offer you the same consistent quality every time when it comes to our airport shuttle service and other transportation opportunities. For instance, our 24-hour airport shuttle services will always save you a ton on travel parking, that you can be sure of. Plus, having only a handful a trusted drivers means our airport shuttle service will always give you a sense of familiarity and trust. Meanwhile, our airport shuttle services also offer optional add-on intimate amenities as well to ensure your protection, like meet and greets at baggage claim and check-ins to walk you to and from your vehicle. So really, whether you're looking for convenience and reliability, or safety and comfort, our airport shuttle service will guarantee that you never run into any unwanted surprises. All that's left for you to do now is reserve our airport shuttle services at Midwest Black Cars & Limos today for your next ride to or from Mount Clemens – and trust us, you won't regret it!
Airport Shuttle Service Mount Clemens MI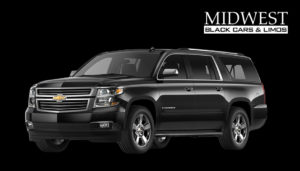 At Midwest Black Cars & Limos, we specialize in offering outstanding transportation services, including our airport shuttle service to all travelers in Mount Clemens, MI, and beyond. After all, even with Mount Clemens located near some of the biggest and best airports in the country, natives and visitors alike still need a way of getting back and forth to their desired destinations – and boy is Mount Clemens full of them. From rare, odd, and macabre attractions, like the Anatomy of Death Museum, to parks, tours, shopping, and more, Mount Clemens is a great place to explore whether you live in town, or you're just visiting. Best of all, Mount Clemens is close to all the action. From attractions and entertainment in Detroit, to natural beauty and recreation all along Lake St. Clair, the people of Mount Clemens truly have it all. So please, let our airport shuttle services and other one-of-a-kind transportation aids at Midwest Black Cars & Limos take you wherever it is you want to go. We know the routes, traffic patterns, and everything else about Mount Clemens and the surrounding areas we need to know to always get you where you need to be safe and sound!
If you are looking for airport shuttle service Mount Clemens MI, call Midwest Black Cars & Limos today at 586.258.9282 for a free consultation, or simply fill out the form below: