Are you looking for airport shuttle service Warren MI?
Of all the decisions you have to make when traveling, your transportation to and from the airport should never even be a concern – so don't let it be. Take advantage of our 24-hour airport shuttle service at Midwest Black Cars & Limos instead, and learn first hand what truly stress-free travel really feels like! We support a small and elite staff of drivers, each of whom are fully vetted and hand-chosen for their superior intimate knowledge of all the regions airports and surrounding cities to ensure our shuttle services are as dependable and reliable as possible. Plus, when you choose our airport shuttle service, you can enjoy all sorts of other incredible optional add-on services as well, like luggage assistance and meet and greets so you can be escorted to your vehicle. All in all, there's really no safer, more comfortable way for you to get to any airport from Warren than our shuttle service. We put the comfort, safety, and satisfaction of our customers first every time to ensure convenience and cost effective travel. So please, if you're looking for a way to get to the airport, don't choose just any shuttle service. Choose our one-of-a-kind airport shuttle service at Midwest Black Cars & Limos!
Airport Shuttle Service Warren MI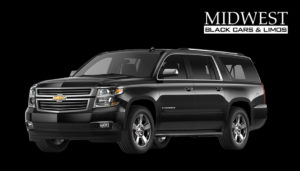 At Midwest Black Cars & Limos, we specialize in offering outstanding transportation services, including our airport shuttle service, to all travelers in Warren, MI, and beyond. After all, between the outstanding number of local attractions Warren has to offer, like the ever popular Warren Community Centre Indoor Waterpark, and the fact that both Detroit and Lake St. Clair are just outside the city's bounds, it's all too easy to see why people travel to this incredible city so often. Warren has so much to see and do. In the summer, Warren's City Center fountains and local farmer's market in particular are packed with people – and during the winter, the scenery near the water simply can't be beat. Ultimately, there's so much to explore in Warren, the last thing anyone wants to think about is transportation, especially when catching flights is involved. So, instead of letting that happen, let Midwest Black Cars & Limos take care of everything ahead of time. You just give us all the details of your travels, including where in Warren you need us to pick you up, and leave the rest to us. Trust us when we tell you, you will not find a better way to get to the airport than our 5-star shuttle service!
If you are looking for airport shuttle service Warren MI, call Midwest Black Cars & Limos today at 586.258.9282 for a free consultation, or simply fill out the form below: