Are you looking for airport shuttle service Utica MI?
There are certain things a person must demand when it comes to airport transportation. A shuttle service should always be clean, for instance, and fill you with a sense of professionalism and security. Your airport shuttle service driver should always know where they're going, and how to navigate through heavily trafficked areas. And most importantly, you should always feel in control and in charge of every step of your journey. That's why, if you live in Utica and you ever need a ride to or from the airport, we urge you to trust our 5-Star airport shuttle service at Midwest Black Cars & Limos. Here, we maintain a small, exclusive staff of drivers who are hand-selected for their diligence and superiority. Plus, our airport shuttle service runs 24/7 to make sure you're never stranded anywhere without a way home. With superior optional add-on amenities, like baggage assistance and meet and greet services to help you with your bags and escort you to your vehicle, there's just no way any other airport shuttle service can compare. So please, the next time you need an airport shuttle service to get you to your gate on time, or to let you rest in the back seat on your way back home, choose Midwest Black Cars & Limos!
Airport Shuttle Service Utica MI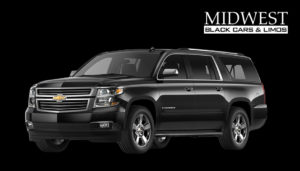 At Midwest Black Cars & Limos, we specialize in offering outstanding transportation services, including our airport shuttle service, to all travelers in Utica, MI, and beyond. After all, whether you live in Utica, or you're just visiting, you can't help but admit it's a great place to be. From classic tourist attractions, like Jimmy John's Field, to cozy local watering holes, like the Steampunk Tap Room, Utica has it all and isn't afraid to show it off. Plus, Utica is just north of Detroit straight down 53, with Lake St. Clair even closer directly east, which means endless fun is only a few miles away in every direction no matter what time of year you're in town. Need a ride? No problem! Whether you just need a ride to/from the airport, or you need a full-time personal chauffeur throughout your stay in Utica, we're certain you won't find a more devoted airport shuttle service than ours at Midwest Black Cars & Limos. Our drivers are thoroughly familiar with Utica's transportation infrastructure, and would be more than happy to help you get anywhere you need to be. Just let us know which airport you're arriving at, and where in Utica we can drop you off, we'll make sure you have a spectacular journey every step of the way!
If you are looking for airport shuttle service Utica MI, call Midwest Black Cars & Limos today at 586.258.9282 for a free consultation, or simply fill out the form below: