Are you looking for airport shuttle service Sterling Heights MI?
With so many car service and ride sharing apps on the rise, it can be tough to distinguish what the right transportation option is for you when you have somewhere you need to be. However, when you choose the airport shuttle services at Midwest Black Cars & Limos, there's never a need to second-guess your choice. With our airport shuttle service, you can have all the same convenience and reliability as an app, plus the safety and comfort of having your own private chauffeur, all in one. Our airport shuttle service is available 24/7 to ensure no flight is ever too early or too late for you to get the ride you need. Our small staff of skilled drivers keeps your rides intimate, and to top it all off, we even offer optional add-on services such as meet and greets at check-in and baggage claim with our airport shuttle service to ensure you have help with your luggage and a safe escort to and from the vehicle. So, whether you're traveling to Sterling Heights, or taking a vacation from your spectacular city, you always have all the resources and support you need. So what are you waiting for? We assure you you've never experienced an airport shuttle service like this. Don't believe us? Find out for yourself by booking your next ride to the airport with our shuttle service at Midwest Black Cars & Limos!
Airport Shuttle Service Sterling Heights MI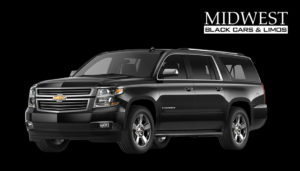 At Midwest Black Cars & Limos, we specialize in offering outstanding transportation services, including our airport shuttle service, to all travelers in Sterling Heights, MI, and beyond. After all, besides having plenty of airports in its vicinity, Sterling Heights is full of local attractions and entertainment for residents and tourists alike to enjoy. From the Sterling Heights Nature Center and GM Heritage Center, to popular parks and shopping destinations, there's simply never a shortage of things to do. Plus, with Detroit not far away, anyone staying in Sterling Heights has plenty of action to take advantage of there as well. Need a ride? No problem! Midwest Black Cars & Limos offers natives and guests of Sterling Heights equal opportunity to take advantage of our premier airport shuttle service and other transportation opportunities. That means, it doesn't matter if you have a flight to catch at four o'clock in the morning, or you need to grab a bite to eat before you head back to Sterling Heights, we'll be there for you. Just tell us where in Sterling Heights you need us to pick you up and drop you off. We assure you, our knowledgeable drivers will get you there as safely and quickly as possible.
If you are looking for airport shuttle service Sterling Heights MI, call Midwest Black Cars & Limos today at 586.258.9282 for a free consultation, or simply fill out the form below: