Are you looking for airport shuttle service Roseville MI?
Whether you're the one who needs a ride to/from the airport, or you have a client or loved one visiting the area, hiring a professional shuttle service, like Midwest Black Cars & Limos, is simply the best idea. If you're the one traveling, having a 24-hour shuttle service chauffeur you around means you can save money on parking and subpar transportation anytime day or night, rest comfortably before/after your flights, and enjoy assistance with your luggage, as well as other exclusive optional add-on meet and greet amenities. Meanwhile, having an airport shuttle service pick up any guests in town is sure to earn their favor without interrupting your own schedule – leaving you more time to prepare for their arrival. Our luxurious airport shuttle service, for instance, is designed to offer passengers optimum comfort, cleanliness, and discretion, along with plenty of space to ensure there's enough room for any baggage you need to transport. Best of all, our elite staff of seasoned drivers know all the ins and outs of Roseville and every airport in the surrounding region, so you can rest easy knowing you'll always get where you need to be safely and on time when you trust our airport shuttle service. All in all, no matter where you're going, there just isn't a better way to begin, or conclude, your adventure than by trusting our airport shuttle service at Midwest Black Cars & Limos with your transportation.
Airport Shuttle Service Roseville MI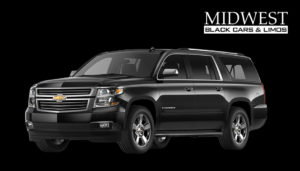 At Midwest Black Cars & Limos, we specialize in offering outstanding transportation services, including our airport shuttle service, to all travelers in Roseville, MI, and beyond. After all, Roseville is a stunning residential community to call home, but there are just too many exciting things to see out there to stay in one place forever. While Roseville may be a crown jewel of Macomb County, and offer plenty of amazing opportunities for families and locals to shop and have fun, it's only one small city in a very big world. Even just outside Roseville there are plenty of things to explore. From Detroit, to Lake St. Clair, residents of Roseville always have access to year-round fun. Just remember, if you ever need/want to go so far from Roseville that you need a plane to get there, our airport shuttle service at Midwest Black Cars & Limos would be more than happy to give you a ride. Just let us know when and where in Roseville we can come get you, and we'll be there before you can even call out for a taxi!
If you are looking for airport shuttle service Roseville MI, call Midwest Black Cars & Limos today at 586.258.9282 for a free consultation, or simply fill out the form below: