Are you looking for airport shuttle service Fraser MI?
When you think of an airport shuttle service, what is it exactly that you think of? Luxury vehicles offering ideal comfort after your long travels? Undeniable reliability? How about exclusive amenities designed to protect you and ensure your safety? Because at Midwest Black Cars & Limos, our airport shuttle service has it all. We've always maintained a small, exclusive staff of drivers to ensure familiarity and trust with our clients, allowing us to establish relationships rather than just offer an airport shuttle service. Plus, our airport shuttle services are available all day and all night to guarantee you get where you want to go no matter what time it is. With optional add-on one-of-a-kind amenities, like complimentary meet and greets to escort you to and from your private car to ensure your safety as well, there really isn't anything our airport shuttle services don't offer. That way, whether you live in Fraser and you need to get to the airport in a hurry, or you're just visiting and need a safe way back to your hotel, we urge you to take advantage of our all shuttle service has to offer. In fact, just do yourself a favor and book all your transportation through Midwest Black Cars & Limos. Our dedication to your comfort and satisfaction is rivaled only by our devotion to your safety!
Airport Shuttle Service Fraser MI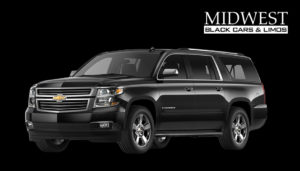 At Midwest Black Cars & Limos, we specialize in offering outstanding transportation services, including our airport shuttle service to all travelers in Fraser, MI, and beyond. After all, with Detroit only a few miles away, Macomb County's village of Fraser is certainly in the running for best places to live and/or visit. In addition to the wealth of attractions and entertainment available right next store in Michigan's most popular city, Fraser has numerous local hot spots of its own to boast over. The Michigan Lottery Amphitheater at Freedom Hill, for instance, is a particularly popular place near Fraser thanks to its incredible assortment of shows and concerts, which people come from all around to see. From there, residents and guests of Fraser have the Macomb Mall, golf courses, a hockey arena, landmarks, nightlife, and more to explore at their leisure. Really the only thing you're missing is a ride. So please, whether you live in Fraser and need a ride home, or you're just checking the city out on a whim, let our airport shuttle service and other magnificent transportation services at Midwest Black Cars & Limos chauffeur you around. We assure you, our drivers know all the best routes and traffic patterns in Fraser – all we need now is your unbridled trust!
If you are looking for airport shuttle service Fraser MI, call Midwest Black Cars & Limos today at 586.258.9282 for a free consultation, or simply fill out the form below: