Are you looking for airport shuttle service Eastpointe MI?
Of all the pains of air travel, figuring out your transportation to and from the airport is always a bigger hassle than it should be. For example, if you drive yourself, you have to leave your car behind and pay for parking. If you don't, you then have to find someone willing to give you a ride, which can be hard depending on the time of your flight. So, where then do you turn? Midwest Black Cars & Limos' elite shuttle service of course! Our incredible 24-hour airport shuttle service will pick you up from anywhere you are, and get you wherever you need to be, no matter where you're going. Plus, our airport shuttle service is infinitely safer than any other common rideshare/car service app out there. Our fully vetted drivers are hand chosen for their reliability and professionalism, and we even offer an additional and optional add-on service, meet and greets, to make sure you have an escort to and from your vehicle to keep you and your personal items secure at all times. Ultimately, whether you're a native of Eastpointe, or just visiting, our airport shuttle service is the fastest, safest, most comfortable, and most dependable way to travel back and forth between destinations. So please, if you're going anywhere at all, let our remarkable airport shuttle service at Midwest Black Cars & Limos help you get there. Not only are we certain you won't regret it, we know you won't find another airport shuttle service out there like us!
Airport Shuttle Service Eastpointe MI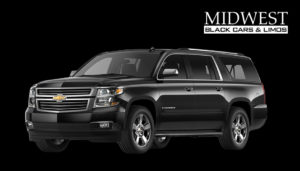 At Midwest Black Cars & Limos, we specialize in offering outstanding transportation services, including our airport shuttle service, to all travelers in Eastpointe, MI, and beyond. After all, Eastpointe wasn't known as East Detroit for all those years for nothing. Residents of this incredible city are right outside Detroit's eastern border, which means despite not having very many attractions to take advantage of locally, Eastpointe is a great place to be if you want to stick close to the city's attractions without compromising your privacy. Plus, Eastpointe is practically right on Lake St. Clair, which means summer recreation as well. All in all, it's easy to see why Eastpointe is such a popular place to live/visit, and we should know. Thanks to our airport shuttle service, our drivers know every twist and turn Eastpointe has to offer. So, before you trust just anyone to help you get from Eastpointe to pretty much any destination of your choice, choose Midwest Black Cars & Limos to be you trusted chauffeur instead!
If you are looking for airport shuttle service Eastpointe MI, call Midwest Black Cars & Limos today at 586.258.9282 for a free consultation, or simply fill out the form below: